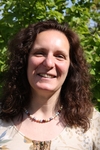 Nach meinem Studium der Chemie an den Universitäten Kaiserslautern und Mainz wechselte ich im Rahmen meiner Diplom-, Promotions- und Postdoc-Zeit zwischen den Bereichen Physikalische Chemie und Anorganische Chemie. Dabei konnte ich mich in verschiedenste Bereiche (Photonenkorrelationsspektroskopie, Röntgenbeugung an Einkristallen und Pulver, Kristallisation, Computersimulation, Modelling, Elektronenmikroskopie, Elektronenkristallographie) einarbeiten. Ich bin Mitglied des "Zentrums für hochauflösende Elektronenmikroskopie" (EMZM) an der Universität Mainz mit dem wissenschaftlichen Schwerpunkt auf der Entwicklung von elektronenkristallographischen Methoden zur "ab-initio" Strukturanalyse von nanokristallinen Materialien. Ich war als Vorsitzende der Special Interest Group (SIG4) der European Crystallographic Association (ECA) tätig und wurde 2011 zur zweiten Vorsitzenden der Komission für Elektronenkristallographie der International Union of Crystallography gewählt.
Ute Kolb, born 1963 in Bad-Kreuznach (Germany), studied chemistry in Kaiserslautern and Mainz. In 1994, she received her Ph.D. from the Johannes Gutenberg-University of Mainz. After her Ph.D. she stayed at University of Mainz as a Post-Doc from 1994 till 1998. 1998 - 2004 she was a "Wissenschaftliche Assistentin" at the University of Mainz, in the field of physical chemistry. Since 2004 she became an "Akademische Rätin" and 2008 "Akademische Oberrätin" at the Institute of physical chemistry in Mainz
For more information see also Research ID and Publications.
---
Academic CV
since 5/2008
Akademische Oberrätin for physical chemistry in Mainz
11/2004 - 5/ 2008
Akademische Rätin for physical chemistry in Mainz
1998 - 2004
Wissenschaftliche Assistentin, Institute for physical chemistry in Mainz
1994 - 1998
Post Doc, Institute for physical chemistry, Mainz

1989 - 1994

University of Mainz, Germany, Institute for inorganic chemistry. Ph.D. (Prof. Dr. M. Dräger), thesis title:

'Dreizentren-Wechselwirkungen R-Sn····X (R=Hal, Ph, Me; X=NMe, O, S) - Eine experimentell gewonnene Grenzorbitalbeschreibung von Verbindungen mit Lewis-acidem Zinn'

1984 - 1989

University of Mainz, studied chemistry

Diploma thesis, Institute for physical chemistry, title: 'Photonenkorrelationsspektroskopie an Polymer-Weichmacher Systemen'

1982 - 1984
University of Kaiserslautern, studied chemistry
1969 - 1982
Primary and secondary school in Bingen, Germany